Manning Ventures Discovers Lithium Zone at the Dipole Property in Southern Newfoundland & Announces New Chief Financial Officer
Vancouver, BC – TheNewswire – February 8, 2023 – Manning Ventures Inc. (the "Company" or "Manning") (CSE:Mann) is pleased to announce that it has received the sampling results from the Dipole Lithium Project (the "Property") located in southern Newfoundland, Canada (Figure 1).
Prospecting samples taken from the property confirm highly elevated lithium assays of greater than 300 ppm Li that were taken during the reconnaissance program designed to evaluate the property.
The geology in the area of the Dipole Property is described as a white intrusive Granite that varies from fine to coarse grained with alteration of sericite, yellow mica, and various amounts of tourmaline. The finer grained units appear to be aplitic and possible part of an evolved pegmatite system.  Five grab samples were taken across strike for approximately 100 meters with assay results yielding 0.07% to 0.10%Li2O (Table 1, Figure 2).
The highly anomalous lithium in the samples represents a new anomalous area, and more work is required to fully understand the significance of the find.  The lithium bearing zone is located within the Cochrane Pond Granitic Suite that was mapped by the Newfoundland Government Geological team of O'Brien and Tomlin in 1984.  During the mapping program lepidolite was noted in the area. Also, further mapping and sampling is required to explore the possibility of additional pegmatite dyke swarms within the volcano-sedimentary rock units which are located to the south of the newly discovered lithium occurrence.  
Six other Samples were taken in the area of the historical sampling by Falconbridge which was located in sediments located to the south.  These samples did not return any significant assays for lithium.  
In relation to the Kraken Lithium discovery located approximately 50 kilometres away discovered by Benton Resources (TSXV:BEX) and Sokoman Resources (TSXV:SIC), on the same regional geological structure, the "Hermitage Flexure", the Company is encouraged (Figure 1).  The sampling has confirmed lithium-enriched intrusives on the property, and additional work will expand into the core of the volcano-sedimentary rocks where the deposit model suggests LCT-style pegmatite may be located.
| | | |
| --- | --- | --- |
| Sample | Li (ppm) | Li2O (%) |
| 392901 | 406 | 0.09 |
| 392902 | 472 | 0.10 |
| 392903 | 348 | 0.07 |
| 392904 | 471 | 0.10 |
| 392905 | 367 | 0.08 |
| 392906 | 41 | <0.02 |
| 392907 | 38 | <0.02 |
| 392908 | 35 | <0.02 |
| 392909 | 39 | <0.02 |
| 392910 | 48 | <0.02 |
| 392911 | 11 | <0.02 |
"We're pleased with the results of the first pass at Dipole, this is a very positive initial step," said CEO, Alex Klenman.  "The property was acquired as being prospective for lithium.  Our first sampling program has now confirmed the presence of elevated lithium values. We're now planning an aggressive follow up with the goal to map all pegmatites on the property while we continue the sampling.   With the recent finds at our Bounty project in Quebec, and now Dipole, we are developing two grassroots lithium projects with excellent potential," continued Mr. Klenman.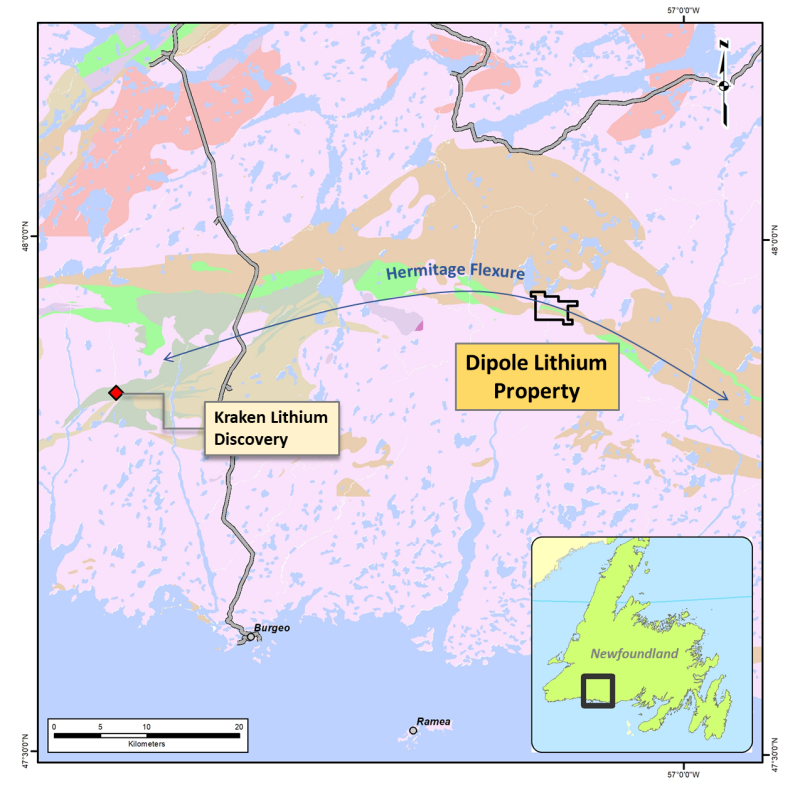 Click Image To View Full Size
Figure 1. Regional Location of Dipole Lithium Property, Southern Newfoundland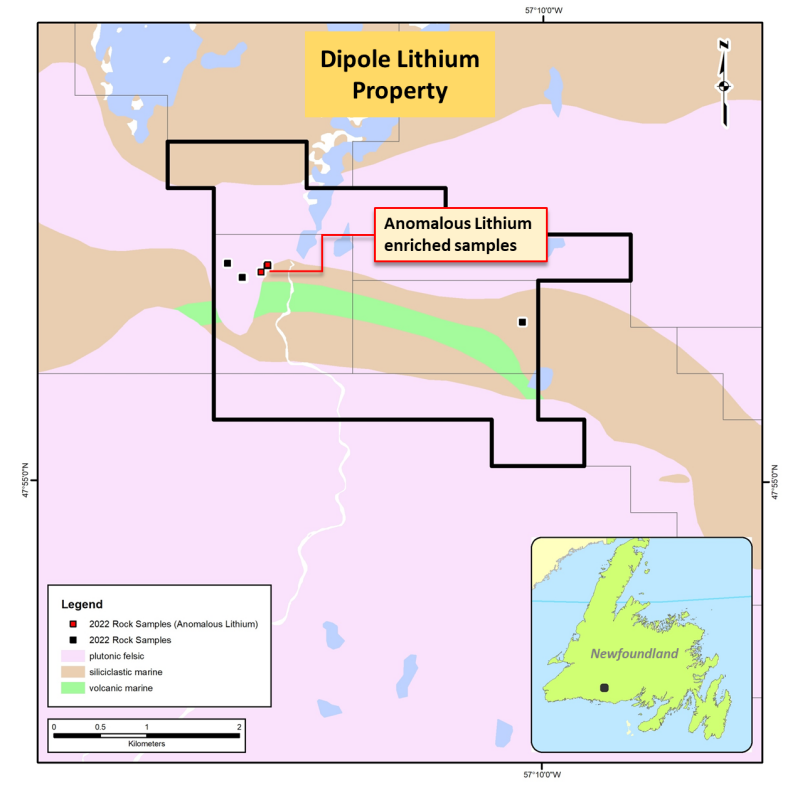 Click Image To View Full Size
Figure 2. Sample Location Map, Dipole Lithium Property
Rock samples were submitted for sample preparation to Eastern Analytical, located in Springdale, Newfoundland. Samples are crushed with up to 80% passing 2 mm, riffle split into 250-gram aliquots and pulverized using mild steel to 95% passing 105 microns. Samples for lithium and related elements (Tantalum, Niobium, Tin) are analysed by ICP-OES using Eastern Analytical Lithium Procedure after a digestion of 3 acids (Nitric, Perchloric, and Hydrofluoric).  Splits of the pulverized material were also sent to Activations Laboratory of Ancaster, Ontario and tested with UT-7 multielement analysis.  The UT-7 procedure is based upon a sodium pyrophosphate total dissolution and analysis by ICP-MS.  The lithium results of the two methods by two independent laboratories are statistically similar and validate each-other.
Chief Financial Officer appointment
The Company has appointed Brian Shin as Chief Financial Officer and Corporate Secretary of the Company, replacing Heidi Gutte, who stepped down to pursue other opportunities. Mr. Shin specializes in providing financial reporting, corporate finance, auditing, corporate strategy, risk management and other accounting services to both public and private companies in various industries. He holds the professional designation of Chartered Professional Accountant (CPA) in B.C. and Canada and Certified Management Consultant (CMC). Mr. Shin has had extensive experience as a consultant, auditor, controller and CFO for numerous publicly traded and private corporations in several industries in multiple countries such as Canada, Hong Kong and South Korea.
The Company would like to thank Ms. Gutte for her efforts to date and wishes her all the very best with her future endeavors.
The Company also granted 300,000 stock options (the "Options") to purchase common shares of the Company (the "Option Shares") to Brian Shin. The Options vest on the date of issuance and are exercisable for a period of five years from the date of issuance at an exercise price of $0.10 per Option Share.
QP Disclosure
Neil McCallum, B.Sc., P.Geo., of Dahrouge Geological Consulting Ltd., supervised the preparation of the technical information in this news release.  
About Manning Ventures
Manning is a broad-based mineral exploration and development company with a focus in Canada. Manning holds a 100% interest in the Bounty Lithium Project, located in Quebec, and the Dipole Lithium Project, in Newfoundland.  The Company also retains interest in six Iron Ore properties located in the Province of Quebec, and portfolio of polymetallic projects in Newfoundland.
For further information contact:
Manning Ventures Inc.
Alex Klenman – CEO
Email: info@manning-ventures.com
Telephone: (604) 681-0084
www.manning-ventures.com
Neither the Canadian Securities Exchange nor its Regulation Services Provider (as that term is defined in the policies of the Canadian Securities Exchange) accepts responsibility for the adequacy or accuracy of this news release. The Canadian Securities Exchange has not in any way passed upon the merits of the proposed transaction and has neither approved nor disapproved the contents of this news release.
FORWARD LOOKING STATEMENTS:
Completion of the acquisition is subject to a number of conditions, including receipt of appropriate regulatory approvals. The acquisition cannot close until all such conditions are satisfied. There can be no assurance that the Acquisition will be completed as proposed or at all.
Certain information in this news release may contain forward-looking statements that involve substantial known and unknown risks and uncertainties. Forward-looking statements are often identified by terms such as "will", "may", "should", "anticipate", "expects" and similar expressions. All statements other than statements of historical fact included in this news release are forward-looking statements that involve risks and uncertainties. There can be no assurance that such statements will prove to be accurate and actual results and future events could differ materially from those anticipated in such statements. Important factors that could cause actual results to differ materially from the Company's expectations include the failure to satisfy the conditions of the relevant securities exchange(s) and other risks detailed from time to time in the filings made by the Company with securities regulations. The reader is cautioned that assumptions used in the preparation of any forward-looking information may prove to be incorrect. Events or circumstances may cause actual results to differ materially from those predicted, as a result of numerous known and unknown risks, uncertainties, and other factors, many of which are beyond the control of the Company. The reader is cautioned not to place undue reliance on any forward-looking information. Such information, although considered reasonable by management at the time of preparation, may prove to be incorrect and actual results may differ materially from those anticipated. Forward-looking statements contained in this news release are expressly qualified by this cautionary statement. The forward-looking statements contained in this news release are made as of the date of this news release and the Company disclaims any intention or obligation to update or revise such information, except as required by applicable law.
Copyright (c) 2023 TheNewswire – All rights reserved.